Southern Produce Kiwiberry
Southern Produce is a pioneer of this exciting and relatively unknown berry fruit. Considerable effort has gone in to developing the market understanding and customer knowledge of this product over the last few years to the extent now where demand is strong and the future looks very positive. The Southern KiwiBerry brand is now available in Australia, Japan, North America and the United Kingdom.
KiwiBerry is the new no fuzz, no fuss, ready-to-eat super snack. It's deliciously sweet, just like a Kiwifruit, but you can eat it like a grape. No peeling required.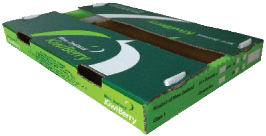 Season

January
February
March
April
May
June
July
August
September
October
November
December
Handling Information
Temperature:
32˚F, +0˚C
Relative Humidity:
85%
Normal Shelf-life:
5-10 Days
Other:
Sensitive to freezing injury.
Shipping
Airfreight only. 1 x LD3 = 550 trays
Pack Details
– 1.5kg Single layer tray (12 x 125g punnets)
– Double layer tray (12 x 125g punnets)